…to Fort Myers to play in round 2 of the WNIT.

On a beautiful Sunday afternoon, BCC members gathered to give a rousing Gator send-off to the WBB team.

Not even a bum knee could keep Robin from seeing off the team. Now, that's a fan!
Gator players and coaches were all smiles as they look forward to their next WNIT game.
Kathy Cafazzo, as always, hard at work interviewing Jordan and Azania. The interview was quickly published to GatorZone.com. Check it out below.
Coach Butler high-fiving BCC members. Let's Go Gators!
Jordan sharing pictures on her phone with BCC members.
Nice, real nice. Can you feel the Gator love?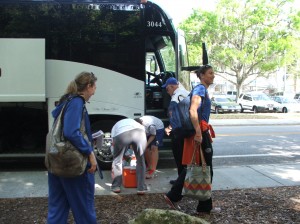 Load 'em up and move 'em out…
Wait, wait! Coach wants to take a picture so she can tweet it. Check out her Tweets at http://twitter.com/coachButlerUF.
Later, Gators!
(A huge "Thank You!" to our photographer, John Robinson)