On April 18, 2012 Gator team, staff, family and friends gathered in the Gator Room to celebrate a very successful 2011-2012 season.
Azania Stewart, our emcee, started things off.
After an invocation by Kayla Lewis, everyone enjoyed a delicious meal. Above are Dr. Ruth Alexander, Lynda Tealer, Dr. Paula Welch and this year's SEC Great Cassie Macias.
In her remarks, Coach Butler thanked the "most popular" member of her staff, Lani McQuade. The BCC heartily agrees. Thank you, Lani, for all you do for us!
Here are the seniors after receiving their watches from the NCAA as remembrance of their participation in the NCAA tourney.
The Gator Backcourt Club always has a good turnout at the banquet!
BCC members Charlotte and Gene Ryan with Coach Butler.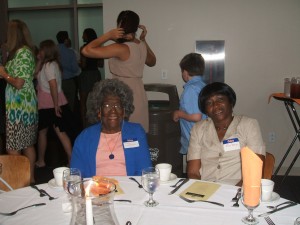 BCC members Eula and Morleen.
Jordan Jones and some of her young Gator fans!
BCC members Tina, Dottie and Jane enjoying themselves.
What a fun evening! See you next year!